How Essential Oils Found Me (and I became an Oily Goddess)
(aka My Essential Oil Story)
A Nose by Any Other Name
I was a snotty kid. By the time I was about 8, it was known in the family that I had upper respiratory "allergies". I couldn't stand perfumes, reacted to many flowering plants and one devastating year I had my Christmas present taken from me – a popular scented doll – because I was sneezing and stuffy-nosed within minutes of playing with it.
As a teenager I would walk through the make-up and perfume sections of large department stores with my nose in my sleeve. My youngest sister still reminds me how embarrassing I was.
I would also sneeze or react to washing powders, deodorants, shampoos, cleaning products, perfume, body lotions, soaps, hair spray, make-up, chemical smells and basically anything artificially-fragranced.
I had a sensitive nose and sensitive system.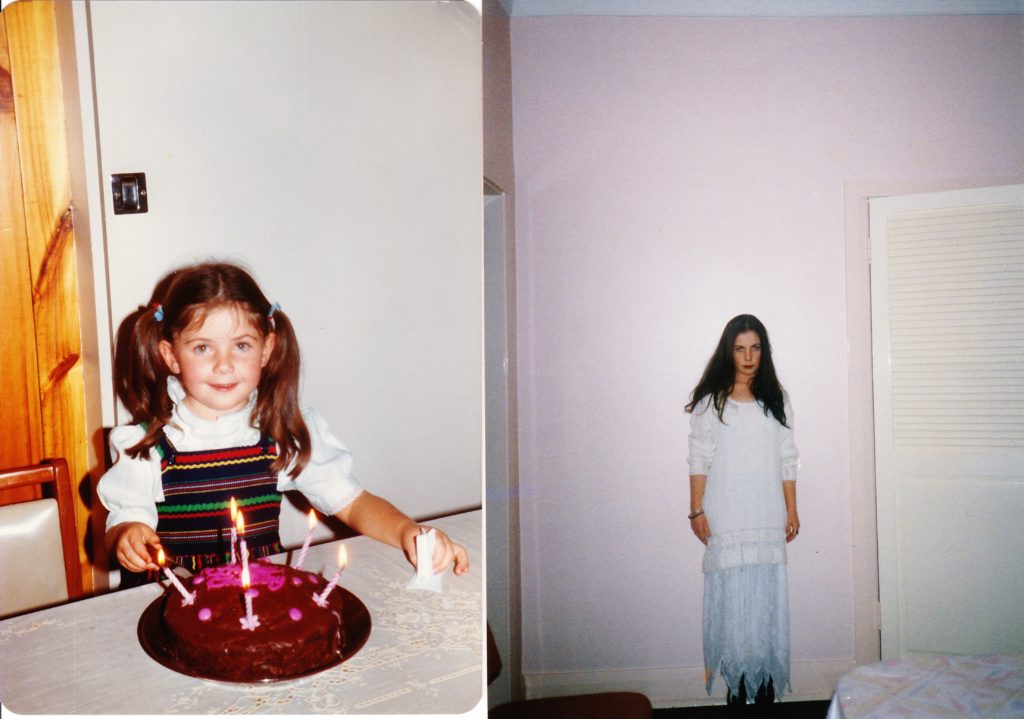 The Crisis
In my  senior high school years I became sick. With the stress of exams and my parents divorcing, my mental, emotional and physical selves fell apart. I was fatigued, had digestive issues, reproductive issues, gaining weight while eating little, very anxious and also very depressed. Also I didn't really have anyone to talk to or assist me with what was going on for me. I saw many doctors with none able to help. This resulted in me losing confidence in conventional medicine and not being taken seriously or listened to. Instead, I developed an interest, or rather obsession, with natural medicine. With food, herbs, vitamin supplements, meditation and pretty much any natural remedy.
For years I searched for ways to feel better. As I spent time in health food stores and started buying household products there, I discovered that I could breathe easier. I could tolerate and enjoy natural scents! My nose was still sensitive but so much less stuffy when I replaced everyday cleaning and beauty products with more natural and less toxic alternatives.
Twenty years later I'm still addressing health concerns. I've learnt that my physical health is connected to my overall well-being and that if any area is out of balance, it affects my body and mood. Lowering stress, seeking support from family, friends or health professionals, leading an active healthy lifestyle, job satisfaction, exploring my spiritual and emotional health; these are ways that I look after myself – daily if possible.
Essential Oils are a big part of my self-care regime and I've experienced some pretty awesome physical benefits. However, the mental/emotional shifts and benefits are even more exciting. I feel happier and love my moods and emotions now. I love using oils daily. They have been truly life changing.
Oils Ain't Oils
As a young woman I loved new-age shops and health food stores so it wasn't long until I came across Essential Oils, used a candle oil burner and burned oils occasionally.  I could handle most essential oils but had aversions to a few.
In my late twenties I studied to become a Remedial Massage Therapist. I loved studying and really enjoyed the course (topping the class!)
I then decided to study Aromatherapy. Aromatherapy fit me like a glove. I already had so much self-taught knowledge of plants and herbs that it felt really natural. The best part was that I learned many different ways to use Essential Oils other than in a candle oil burner.
I also learnt that good quality Essential Oils cost a premium and to ask questions from oil companies about where their oils have come from, how they are processed and what else  is in them. I was advised to ask for the Material Safety Data Sheet when I purchased an oil.
Aromatherapist
I spent the next twelve years working for spas, retreats and massage businesses in the Blue Mountains as well as starting to work for myself. I used my Essential Oils in creams that I made and felt feminine, exotic and sensual. Even my invoices smelled of Essential Oils!
I improved my skin, my reproductive health and felt great when I used my oils.
Funnily enough, I gave hardly any Aromatherapy massages or treatments. Although I adored Essential Oils and Aromatherapy, I just couldn't seem to get interest from the public. Clients only wanted Remedial Massage and to claim with their Health Fund.
However, I did discover that if I used Essential Oils in a Remedial Massage (either in the room or on the client), I wouldn't succumb to intense fatigue at the end of a long day and the client would also receive the benefits of Essential Oils.
doTERRA
I was given a  doTERRA product a couple of years ago without any support or education (this is not  usual). And though I did like the Peppermint Beadlets, I disliked seeing the massive company name on all of the products. I kept seeing doTERRA set-ups at expos and events and actually thought it was silly – I was an Aromatherapist after all and I knew about Essential Oils and where to get them. So I ignored this strange company.
Then one day at the start of 2017 someone I trusted and respected mentioned how Essential Oils had helped her so much. She mentioned it occasionally over a year, told her story of returning to health and it moved me. Later she shared about her fantastic experiences with doTERRA as a company. And then mentioned that there was a business opportunity.
I knew I was interested in the business opportunity but first, were the oils any good?
To find out, I ordered the Nature's Solutions Kit so I could really try out the products. I waited impatiently for my goodies to arrive (it felt like forever!) and they finally turned up in pretty brown and purple recyclable packaging.
Although I was familiar with Essential Oils, I decided to learn all about the company, about the business side of things and most importantly to try out these particular oils and get to know them.
My Oily Discovery
Very simply I love the oils and I'm yet to meet someone who doesn't like the smell. These are the purest, freshest and loveliest Essential Oils I've had the pleasure of smelling – my nose loves these oils!
I also love the community doTERRA creates and am blessed with the support I have from people in my team.
doTERRA is transparent about how the oils are grown, harvested, priced and all the info of each batch is freely available online at sourcetoyou.com. The quality of the oils is 10/10. The work practices are ethical, sustainable and lots of philanthropy and practices that help out communities.
And most importantly, the oils smell absolutely heavenly – no stuffy nose for me! (except for Jasmine which sadly I still can't tolerate due to a  hayfever reaction).
I'm a member of several support groups to help me use the products and share experiences. I've created my own group. And I have several mentors helping with the business side of things. Wellness Advocates help each other out, even if we're not in the same team. It's actually a really lovely place to be in.
As for building my business, I don't always find it easy to contact people or reach out and invite them to try a sample. By nature I'm pretty reserved and shy. However, I'm making friends, gaining support networks and growing every day. I use my Essential Oils for confidence and to support me in this journey. I'm enjoying the process and also enjoying my life more.
Oily Miracles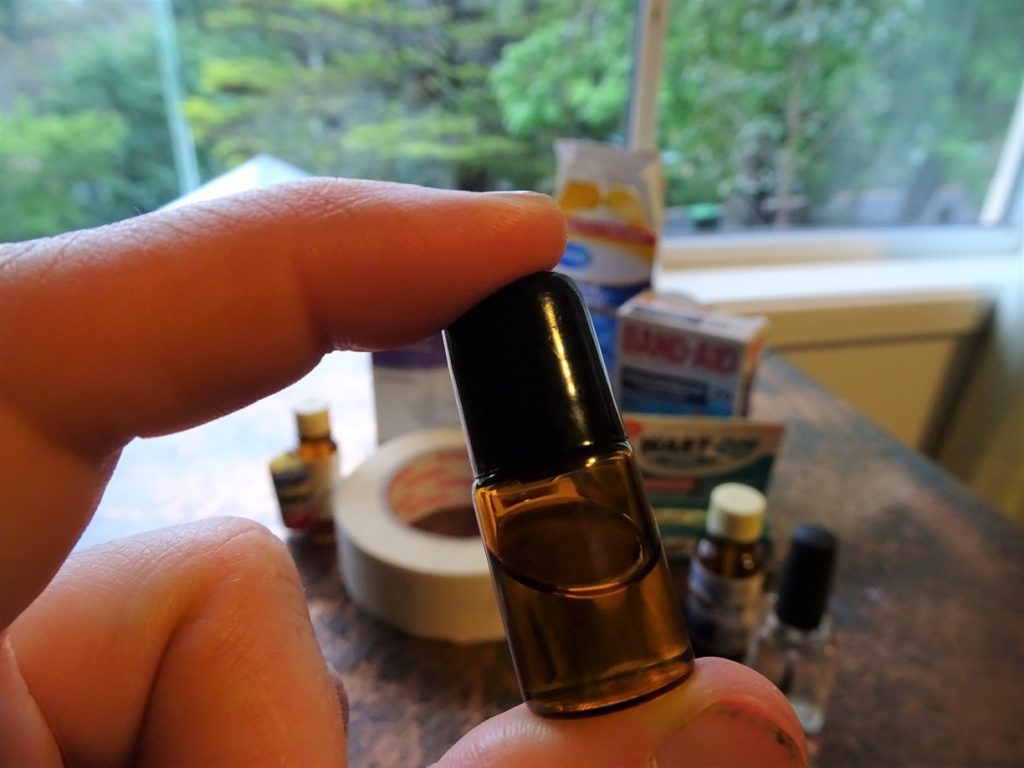 Since I started using doTERRA Essential Oils I've had one outright 'miracle' where I put oils on a stubborn four year old wart and it vanished. I really had tried everything to get rid of this thing and with oils it disappeared painlessly in only 10 days (see my wart story here).
But it's not the big things that wow me. It's the small Every Day Miracles that I appreciate. I'm growing in confidence. In productivity. I'm growing in my Emotional Intelligence. I experience an array of emotions often and am better able to manage anything that feels negative or that I want to change, like feeling sleepy or alert at appropriate times. It's liberating to have a toolkit to support me in all situations (and oh yes, I have encountered some bizarre situations where Essential Oils have definitely helped).
My Oily Future
I'd like to look back and see how much in my life has changed since using Essential Oils daily. I feel supported in so many ways and love showing my friends and people everywhere how they can benefit by using Essential Oils in their life.
I'm leaving some open space for possibilities and to see where this journey will lead…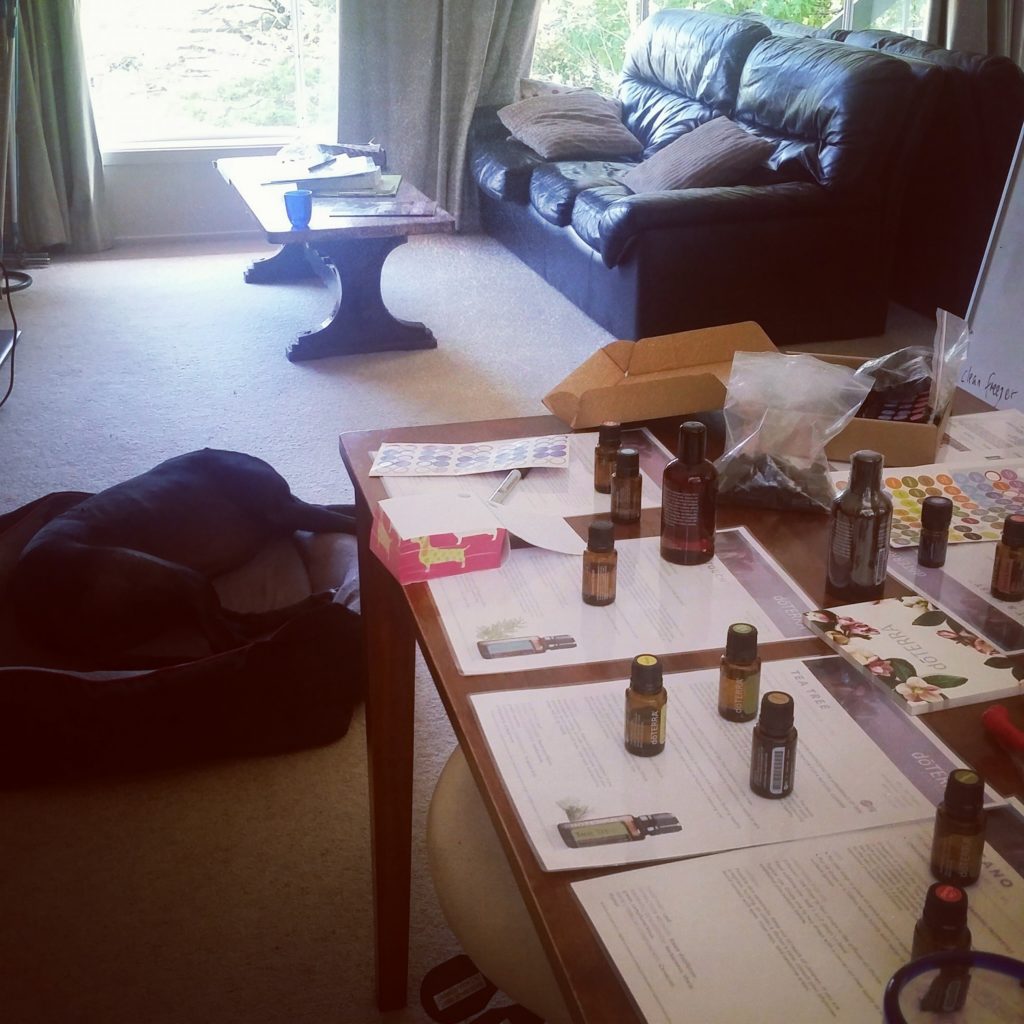 My Oily Business
So I'm growing a community of Essential Oil lovers.
One by one we're taking steps to become healthier, happier and maybe even wealthier. And helping others to do the same.
My dream is to help as many people as possible to feel amazing in all areas of their life. I truly know that Essential Oils can help in so many ways.
I'd love to chat with you about oils or offer you the opportunity to try some gorgeous samples. Whether you decide to come on board or just enjoy experiencing some beautiful products, I'd love to connect.
I'm so much healthier and happier since I've started this business. Oilier and Goddessier too!