Elyssa Mackie, Dip RM
My name is Elyssa Mackie and I am the owner/therapist at Massage and Soul.  I have now been offering massage in the Blue Mountains for 17 years and am still loving it.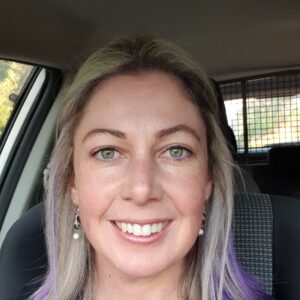 I'm passionate about helping people to feel better using natural methods and have a room at Lemon Balm Clinic in Katoomba, and a home clinic in Bullaburra.
Massage, aromatherapy and intuitive services can be used with any other healing modality. No matter your current state of health, there is always something that I can offer you.
When I'm not working I love walking my dog, Coco (also known as the Massage and Soul receptionist), reading and writing, meditating, yoga, gardening, learning new things and spending time in nature.
Massage
My signature massage style is to tailor a blend of relaxation and remedial techniques to suit your needs and I cater for couples, pregnancy, elderly or disabled, sports or corporate functions and can arrange extra therapists for groups (if enough notice is given).
I am  fully qualified and insured, offering health fund rebates for Remedial Massage for all health funds. I am also a member of the Association of Massage Therapists (AMT).
If you require mobility access, disability or any other needs, please contact me to discuss which clinic is suitable, or we can organise a home visit.
Soul
I use my intuition throughout the day, whether reading body language or tuning in to things unseen. My way of life is to combine the practical with intuition  and it's exciting to be now be offering intuitive services.
I've been a Reiki Practitioner for 19 years, Massage Therapist for 17 years, Aromatherapist for 16 years and have been reading Tarot for over 20 years.
The following links will help you to navigate my website.