Are you visiting the Blue Mountains?  As a local, I feel that visitors often get a prepackaged postcard version of this beautiful City of the Blue Mountains. The  truth is that we are really spoilt for choice in this wonderful city and there are many lovely activities and things to do. Here is my list of 8 great things to do in the Blue Mountains.
8 Great Things To Do in the Blue Mountains
1. Invest in a Massage
Invest in your wellbeing by booking a mobile massage or tarot reading with me at Massage and Soul (of course, you knew I would suggest this as an activity!)
If you're visiting the Blue Mountains, I will happily come to you at your guesthouse or holiday stay and I love getting out of the clinic into gorgeous accommodation. The guesthouses and cottages or B'nBs are exceptional, charming and often with stunning views.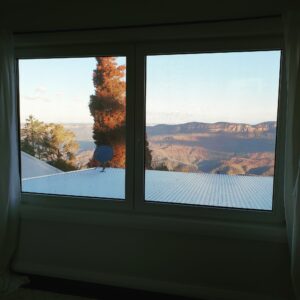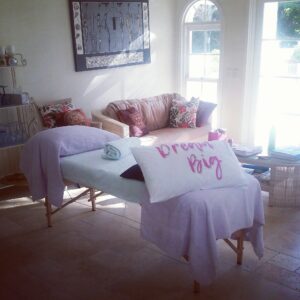 Why a massage? It's a wonderful way to relax with friends, as a couple or ease cramped bushwalker's legs! Picture a roaring fire on a cold winter's afternoon, enjoying a massage in a stunning cottage with a view. Bliss. Because I'm also Remedial trained, you can experience therapeutic massage addressing discomfort or aches and pains and may even be able to claim with your health fund.
Or you can visit me on Tuesdays in Blackheath or at my cosy home Clinic in Leura. There are many more spas, beauty therapists and massage therapists in the Upper Blue Mountains. Massage is definitely a self-care activity you want to experience.
2. Get Outdoors, Be Adventurous
If you've already seen the magnificent Three Sisters and done all the prominent walks and lookouts, be assured there are plenty of other options for you to enjoy. Think mountain bikes, canyoning, abseiling, guided nature walks, spotlight tours or exploring some of the many lesser-known walks and trails in our National Park. We also have dog-friendly parks or council-owned walks. You could also try camping at Glenbrook, Newnes or the gorgeous Wombeyan Caves.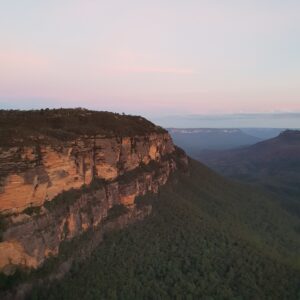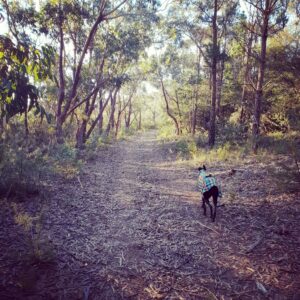 If you take on some of the more extreme options or longer bushwalks, pack your water and definitely have another think about that massage!
3. Catch a Flick
Netflix is okay if you're at home but for an authentic experience Mount Vic Flicks is a must visit in the Blue Mountains. This is a cinema from another era – the way they used to be. There's nothing better than sitting in old creaking vinyl seats with a hot tea in a mug and a choc-top melting on your lap, seeing an independent  or foreign film. If you're in the lower mountains, Glenbrook Cinema is the place to go and if you'd prefer to see a blockbuster, The Edge will deliver.
4. Go Apple-picking
You can pick apples and some other types of fruit in Blackheath and in Bilpin if you drive along Bells Line of Road. The fruit is always superb and a fun experience for everyone. You can also pick mushrooms around Oberon and they are yummy.
5. Soak in some Culture
The Blue Mountains Cultural Centre is fabulous hour or two for kids and adults, especially on a rainy day. There are small art galleries in just about every township, plenty of antique shops, op shops and second-hand book stores. Or pop into the Hydro Majestic shop to see some fun artifacts.
6. Meander through Festivals and Markets
The Blue Mountains is an arty place. Look out for Winter Magic Festival (our creative spectacular Winter Solstice festival), the Blue Mountains Music Festival, Ironfest (the Festival of Steel in Lithgow). The Annual Gnome Festival (Rotary fun in Glenbrook), Springwood Foundation Day Festival, Leura Gardens Festival and more!
There are also markets all over the Blue Mountains. Take your pick and find some fabulous local produce or crafts.
7. Experience Live Entertainment
There are numerous venues for music, comedy and other live events. Fusion Boutique is a great place to start looking but many pubs and bars and some cafes or restaurants will also have live music on a Friday or Saturday evening. Some of the big hotels, like the Carrington and Hydro Majestic also host balls and festivals. And just watching Katoomba locals walk around in onesies, pyjamas or fairy costumes can be fun too 🙂
8. Take a Break from Activities
The Blue Mountains is also a wonderful place to take some time out from a busy schedule. There are plenty of yoga classes, meditation classes, retreats and quiet places to sit and contemplate.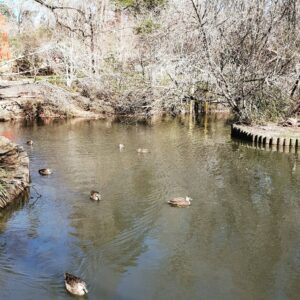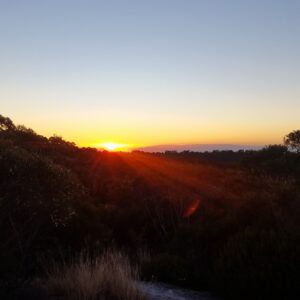 It's okay to have a quiet weekend away and not make many plans. Sitting by a warm fire in Winter or casually watching the birds feed in the dusk might be just what your soul needs.
Don't Forget to Ask a Local
We locals know the special places to eat, drink and the hidden locals secrets… and we might just share them with you 🙂 Don't be afraid to chat with your host or the staff in the local shops, cafes and stores. We love this community and want you to love it to.
Enjoy your stay in the Blue Mountains!